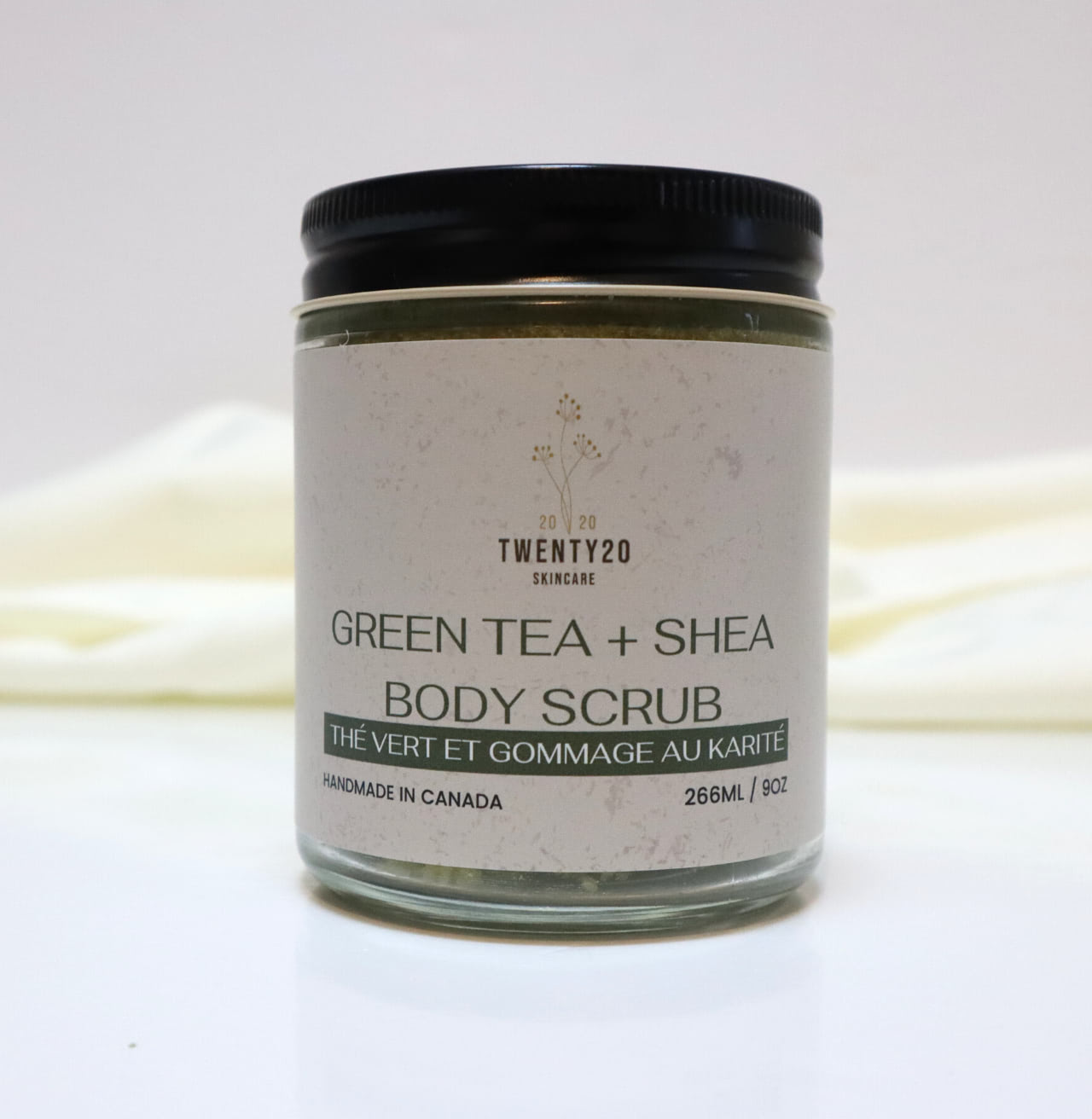 Green Tea Shea Body Scrub
Description
How To Use
Ingredients
This moisturizing body scrub is made with fair trade Shea Butter from Ghana to nourish your skin. Formulated with an assortment of green teas to gently exfoliate and protect the skin from free radical damage.
This scrub is scented with lemon and rosemary to leave you feeling refreshed after each use. A complimentary wooden preserving spoon will also be included with your order.
Use this scrub on wet skin. Begin by massaging a spoonful or two in circular motions all over your body. Give a little more attention to the rough patches, like elbows and knees. Rinse off, then towel dry.

Always close the jar after use and avoid adding water to the product. Don't use this scrub on damaged or irritated skin and avoid contact with eyes.
Shea Butter, Matcha, Green Tea, Sugar , Coconut Oil, Olive Oil, Lemon Essential Oil, Rosemary Essential Oil
Key Benefits
Shea Butter
Protects skin from dehydration, restores skin's suppleness and offers emollient properties which can improve the skin's texture. Doesn't clog pores and can be used to revitalize dry hair and define curls.

Coconut Oil
Cold pressed, unrefined coconut oil contains lauric acid which nourishes the skin and is deeply hydrating.

Rosemary Essential Oil
This oil has powerful rejuvenation properties and is key in the promotion of healthy hair and scalp.

Green Tea
Green Tea is an antioxidant that Soothes and protects the skin, reduces sebum, and minimizes signs of aging.
FAQ
Skincare
With raw fair trade Shea Butter as our main ingredient, our products are hypoallergenic and never tested on animals.
Reduce. Reuse. Recycle
Both our glass jars and aluminum tins can be recycled when empty! We also encourage you to find your own creative ways to reuse the jars around your home or office
Shipping
Orders received during our business hours are shipped out in 72 hours. For local pick-up, you will receive an email once your order has been fulfilled. For more info, visit our Customer Care →
Return Policy
We are pleased to provide a full refund on any unused products returned within 15 days of purchase. However, due to the nature of our products, we do not offer returns, refunds or exchanges on used products.